See on Scoop.it – Environment.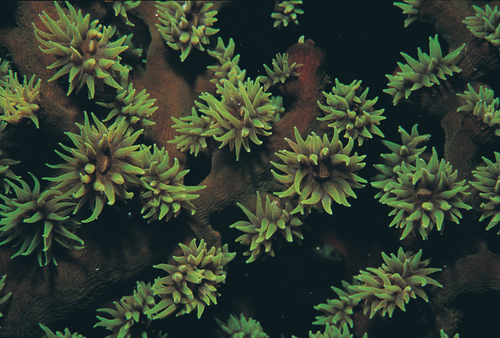 The black sun coral is "invading" the Gulf! Once settled, it could out-compete other benthic epifauna and change the dynamic of the region's community structure.
Marine and freshwater species are constantly being introduced to different parts of the world via a number of different vectors. Some species attach themselves to the hulls of ships, carrying them half way across the world, while other species hitch a ride on oil and gas platforms that are being towed to different locations. Species have even been found in the ballast water on container ships and even in other instances, aquarium hobbyists have released invasive species into the wild simply because they didn't want them in their homes anymore. Once introduced, species distribution can become rapid and widespread.
The sun coral, Tubastraea coccinea, was introduced in Puerto Rico in 1943 (nobody is sure how, but chances are it was due a ship or barge transporting goods from Indo-Pacific) and is presently found all the way in the northern Gulf of Mexico. While teams were out doingsurvey counts on this specific coral, they found a new invasive coral species, the black sun coral Tubastraea micranthus, on gas and oil platforms. Black sun corals can thrive on highly exposed habitats (aka gas and oil platforms) competing with other benthic epifauna for space. This poses a potential threat if expansion grows dramatically. For these reasons scientists set out to estimate the current population of this new invasive coral and determine if their numbers are expanding and spreading to new locations.
See on oceanbites.org